Explore our CareerBOT, a chatbot equipped to support you with your job search, finding out more about requirements of skills, also offering help in the area of CVs, cover letter writing, and the interview to support your job application!
Chatbot based Career Guidance
You want to improve your professional competences on career guidance? You want to provide others with easy-to-navigate job finding tools?
With the CareerBOT project, you can improve your digital competences and readiness and increase your resources for career guidance and search. You are the focus of all developed outcomes with the goal of supporting you in your work practices.
To provide proper support, the CareerBOT project includes guidance materials, a training and further resources, as well as the CareerBOT tool itself. The CareerBOT itself is a user-friendly Chatbot designed to provide you with the most important information on job search, skills required, and job trends in all partner countries.
You need support in your job search? You would like to have all information in one place?
The CareerBOT project provides you with the CareerBOT, a Chatbot tool that offers you information on job requirements, job offers in your country or region, and future trends on the labour market. Further, we developed supporting videos on how to prepare your application and for the job interview.
Having everything in one place, the CareerBOT is an easy-to-use tool that can be accessed directly from your computer or smartphone. Explore the CareerBOT now and take the next step in finding a job that suits your interests and motivations!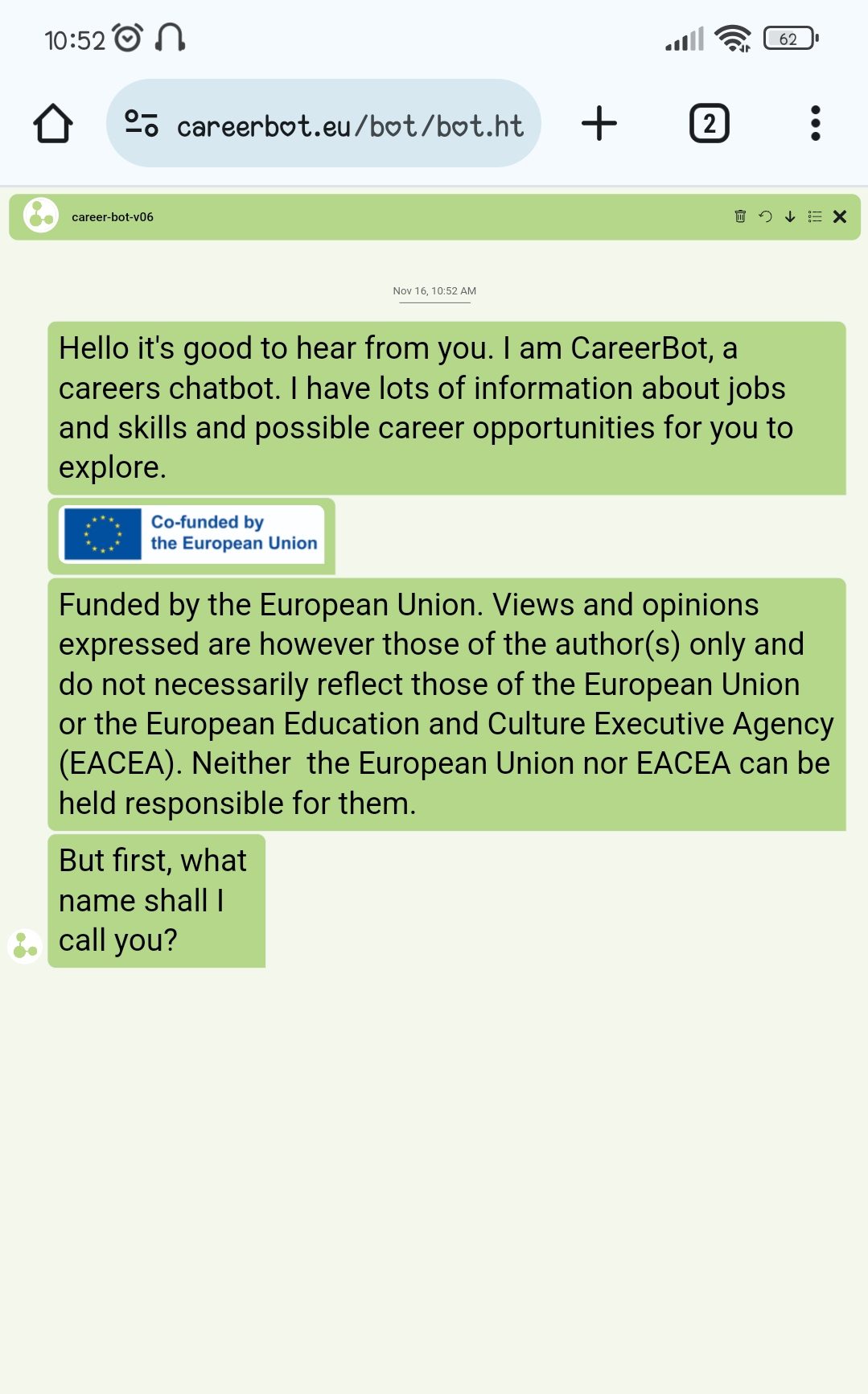 Find out more about us, the partners and countries that are involved and how to get in contact with us.
Discover more information about our current project events and activities and what has been done recently.
Explore our project results, find out how to access them and how they work.
Follow us on Social Media